Tunisia Expedition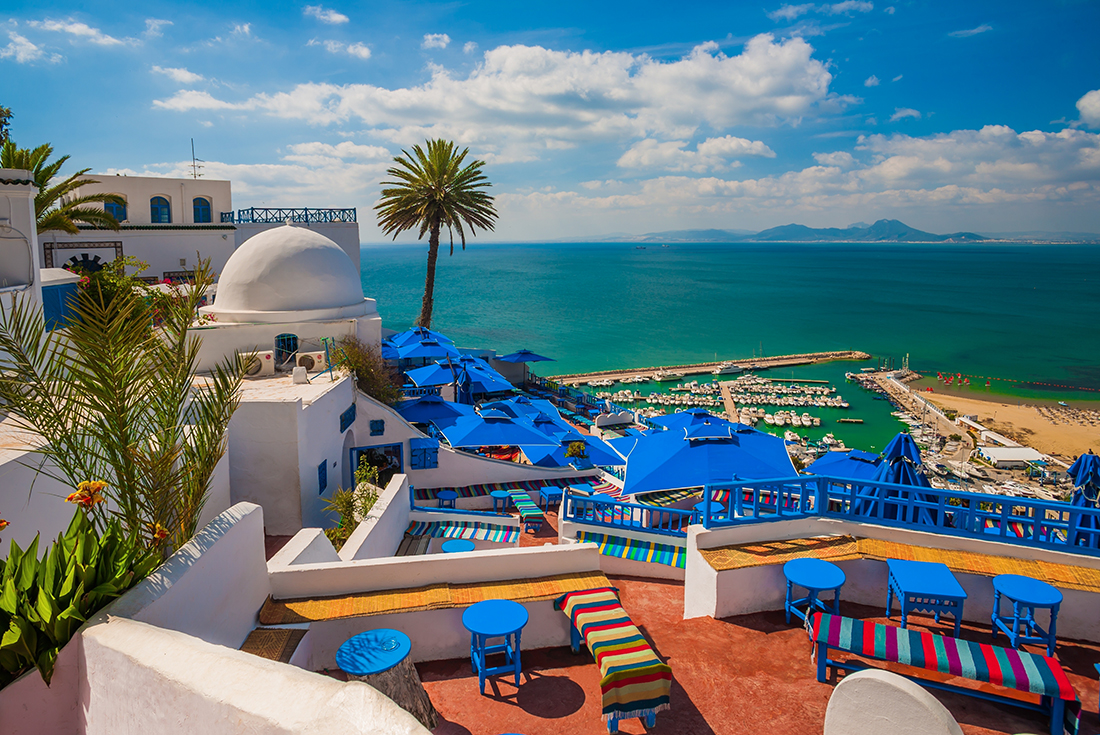 Tunisia Expedition
Discover the living history, vast desert landscape and seaside bliss of Tunisia on this 12-day adventure to a seldom-explored gem. Wander through waterfront medinas where the scent of jasmine floats on the sea breeze, explore World Heritage-listed Roman ruins without the crowds, hike over sand dunes and under craggy mountains and feast on spicy Tunisian cuisine, which blends the staples favoured by the nomadic peoples of North Africa with Italian and Spanish flavours. Trek the Sahara with local Amazigh guides and camp under North African stars, meet local female artisans keeping traditions alive and spend a couple of nights in an underground cave dwelling. From vast stretches of pink-hued salt lakes to turquoise coasts and palm-fringed oases – this trip reveals the diverse sides of a Mediterranean jewel.
Activities
Tunis - Medina of Tunis: Great Zitouna mosque
Tunis - Baron d'Erlanger Palace
Tunis - Sidi Bou Said - Village Visit
Gammarth - Home cooked meal and cooking demonstration
Kairouan - Archeological site of Carthage
Kairouan - Visit glass blowing workshop
Kairouan - Pastry Workshop
Kairouan - Traditional Carpet Shop
Kairouan - City Tour
Tozeur - City Tour
Tozeur - Date Museum and Gardens
Douz -Sahara Camel Trek
Douz -Sahara Camel Trek
Matmata - Troglodyte Lunch
Toujane - Traditional Olive Press
Douiret - Trekking from Douiret to Chenini
El-Jem - Amphitheatre
Mahdia - Old Peninsula Medina Walk
Tunis - Bardo National Museum
Highlights
Explore some of the local underground dwellings of Matmata, before enjoying lunch in a troglodyte restaurant where mythical scenes from Star Wars Episodes I, II, III and VI were filmed.
Wander the largest medina in North Africa in Tunis, navigating the twisting alleyways to discover tiny stores overflowing with goods, ancient mosques and bustling squares.
Marvel at the spectacular Roman amphitheatre of El Jem. This 3rd-century structure resembles Rome's Colosseum and rises above the surrounding city in a pretty impressive fashion.
Meet local female artisans in their workshops and homes and learn how they're keeping their crafts and art practices alive. Sample local sweets, share home-cooked meals and join in on local cooking demonstrations.
Trek through the Sahara with local Amazigh guides, then settle in at a desert camp to watch the sunset over the epic sea of dunes.
By travelling on this trip, you'll directly support our Intrepid Foundation partner, Education for All. Donations help them support girls in the High Atlas Mountains through secondary school, bringing a generation of women out of the cycle of illiteracy, poverty and early marriage.
For over 30 years we've been taking travelers around the globe. That's over 30 years of adventures, of visiting new places and old friends, of countless unforgettable moments. More than 30 years of changing the way people see the world, on small group tours with like-minded Intrepid people.
As a responsible business, we've always been committed to being there for our travelers and the communities we visit. So, you can trust that when you travel with us, we won't just be there for you
...